Care for your shoes and they will care for you
Red Moose products share a single, common goal — to help people maintain their footwear. Many do not realize the importance of proper shoe care.

If you treat your shoes with the loving care they deserve, they will love you back. Regular cleaning and polishing make all the difference in the world.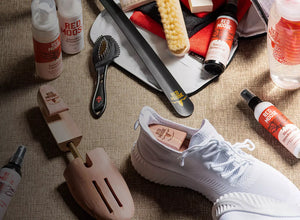 A little maintenance and your shoes will continue to look like they did on the day you bought them. Get educated.
Shoe care tips
Good stuff- for good shoes
At Red Moose we believe that style should be genuine and effortless; that genuine craftsmanship is about the myriad little details that are hard to discern individually but come through collectively.
About Red Moose
About Red Moose
Project
One step forward,
two socks back.
With every purchase made from Red Moose, we
donate socks and shoelaces to people in need.
Learn more